Description
#sma_froocredit, #sma_header, #sma_imageviewer, .sma_templatedivider, #sma_tabs, #sma_promo, #sma_footer, #sma_design, #sma_seo { display: none; }
Template By Froo!
GRAFTOBIAN WAX WORKS BUMP & BRUISE KIT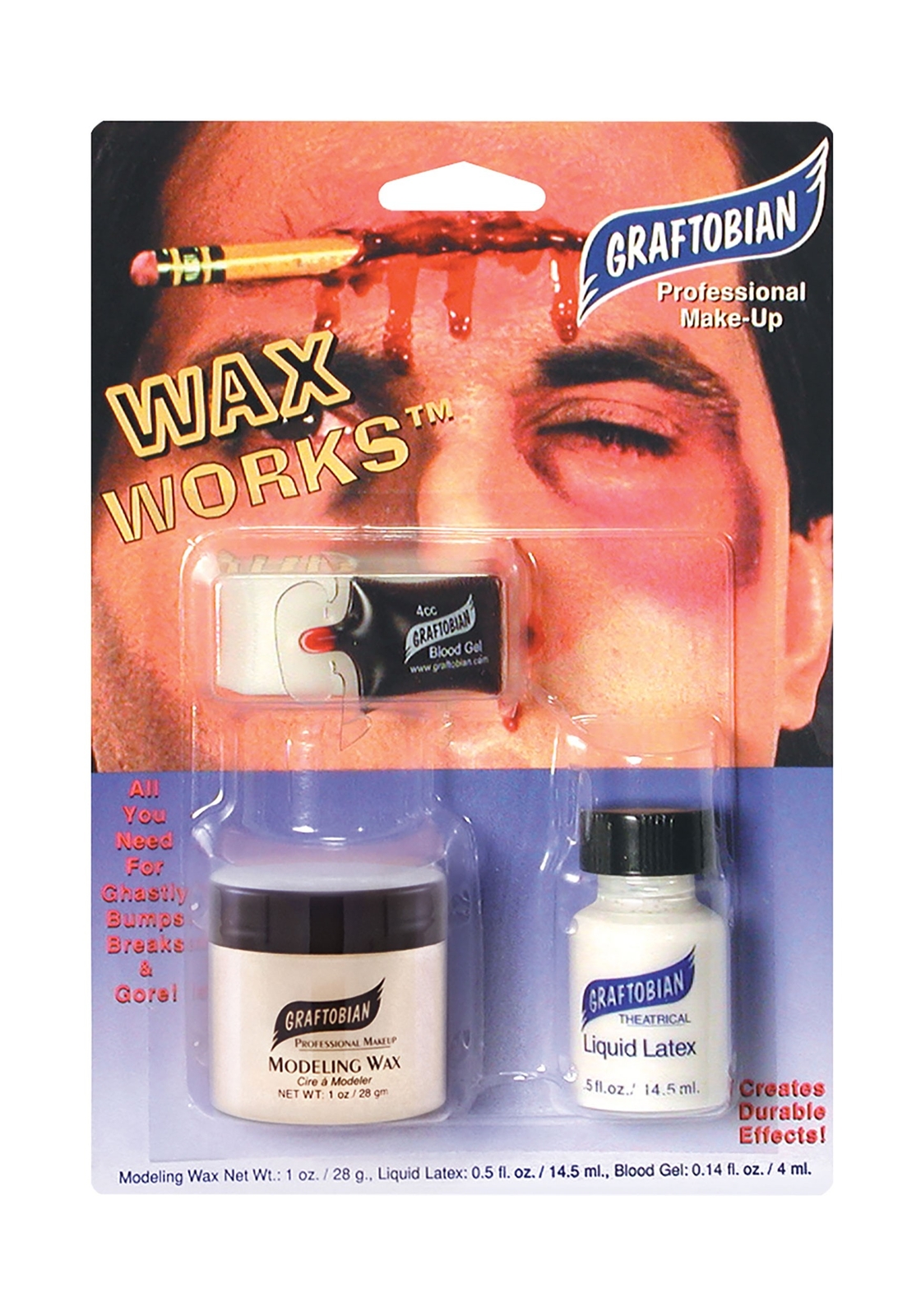 SCAR ISSUE
Have you ever seen yourself as an artist? Every artist has their preferred medium. Some artists love oil paints, others like to carve their masterpieces out of marble. But if you don't see yourself as an artist yet maybe you just haven't found your right medium yet! Don't doubt yourself just yet. This Bump and Bruise kit might be the answer and your very own face might be your canvas! And if we're being truthful, we just can't wait to see what you come up with.
PRODUCT DETAILS
This kit will let you make your face 100 percent more disturbing. Actually, you can go as far as you choose. The modeling wax can create swollen features, cuts, or gore. The theatrical liquid latex is handy to create bloody scabs and a number of liquidy horrors. And of course, the look is topped off with the traditional pouch of blood because what are a few bumps and bruises without a little blood?
CRUISIN' FOR A BRUISIN'
Now, we don't really know why you're going for a black and blue look. Maybe you're heading out for Halloween. Maybe you're staring in a play as a major boxer. Maybe you just want to be prepared for a gnarly idea that pops into your head. Either way, this set will be there for you when you decide to cruise for a bruise.
About Us
								Here at stage door we care about providing you with top quality makeup and special fx products, with 1st class customer service. We stock industry leading brands at a competitive price for you. If you are a makeup artist, school or theatre we can provide up to 30% of your order.

Our brands that we stock:
Kryolan
Ben Nye
Graftobian
Monster Makers
Skin Illustrator
Senjo
Grimas
Paris Berlin
Diamond FX
Chavant
Snazaroo
Supercover
Capezio
Bloch
Roch Valley

Thank you for your business


							
Payment
	
										We accept payment by: Paypal.
over the phone 0161 480 0735
Through our website
								
Shipping
	
								We take great care packaging every item to ensure safe shipment to you. We charge a shipping fee only to cover our costs of materials and labor. Once your order has been processed and we have received cleared payment, your item will be dispatched as soon as possible.

Domestic:
1st class - delivery time = 1-2 days
Price = Free

Special Delviery Guarenteed before 1pm next day - delivery time = next day before 1pm
Price = 6.99
----
International:
Royal mail standard international  - delivery time = 1-3 weeks
Price = 3.5

Royal mail international signed for - delivery = 3-5 days
price = 6.00 

----------------------------
						  
Terms
								We warrantee and represent that the goods are as described in the above listing. We specifically disclaim any implied warranties of title, merchantability, fitness for a particular purpose and non-infringement. Customers should satisfy themselves that any item choice made is suitable for their intended purpose or use. We pride ourselves on our customer service. In the rare event that you have a problem with your item please contact us and we'll be happy to help.
							
Returns
								Genuinely faulty goods will be replaced or money refunded, however we must be advised of any faulty goods upon receipt of the item. If the goods are faulty or you have received the incorrect item a pre-paid return label will be provided. All returns which are not at the fault of ourselves will be covered by the customer.
							
You may also be interested in…..
Froo Frooition www.froo.com | selling manager applications, eBay design, eBay store design, eBay shop design, eBay template design, eBay listing design